Fine Dining with a Warm Welcome
Enjoy the broad selection of Cantonese and Szechuan cuisine that is available only at Tien Chao.
Appetizers
A beautiful selection to get your mouth watering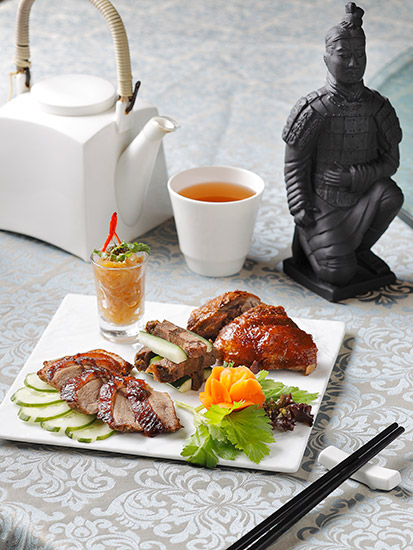 Barbecue Hot & Cold Combination
Combination of Hot and Cold Barbecue Technique that creates a unique flavor sensation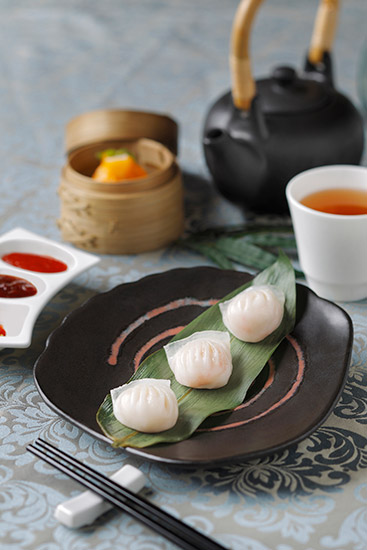 Steamed Shrimp Dumpling (Har Kow)
A tasty crystal shrimp bonnet with its pleated shape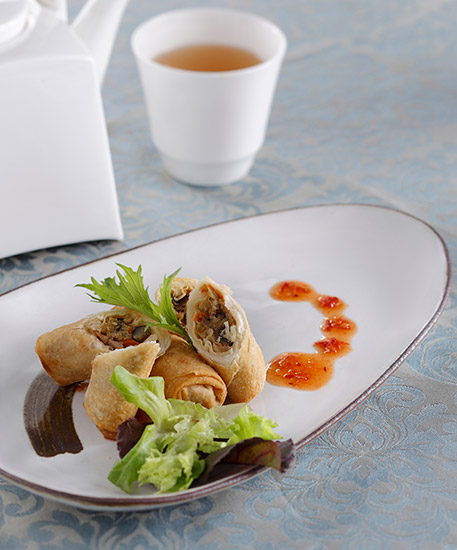 Deep Fried XO Sauce Duck Spring Roll
Homemade spring rolls made with an old family recipe complemented with an XO dipping sauce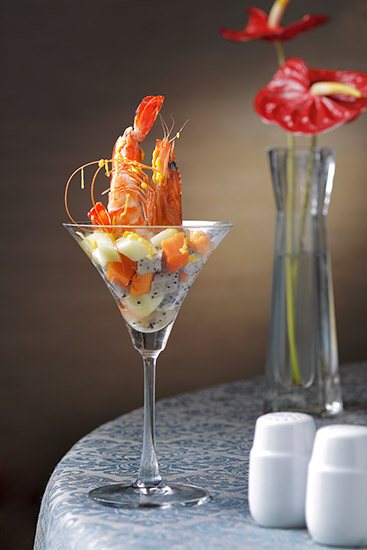 Fresh Fruit Prawn Salad with Wasabi Mayonnaise
Add a fresh twist to a classic prawn salad with tropical passion fruit and wasabi Mayonnaise
Main Course
Delectable dishes with mouth watering flavours
Roast Duck Recipe: juicy meat, crispy skin glazed with the honey-balsamic glaze
Braised 3 Head Abalone & Fish Maw with Oyster Sauce
Our hearty signature food : braised 3 heads abalone, steamed Broccoli, Fish Maw with oyster sauce
Wok Fried Beef Tenderloin Cube with Black Pepper Sauce
Beef tenderloins are legendary. With the different chinese cooking style, enjoy the wok fried beef tenderloin cube along with Black Pepper Sauce
Baked Lamb Chop with Butter Garlic
No matter how thick your chops are or how you like them done, you will enjoy a heavenly combination of moist and tender baked lamb chop with butter garlic prepared by our Chef
Steamed Sea Grouper with Fin Soy Sauce
This recipe makes any sea grouper juicy and delicious. Makes a fantastic meal when served with white jasmine rice
Braised Spinach Bean Curd with Wild Mushroom
Craving wild mushrooms? We give our guests a boost of wild flavor in a couple of ways. One of them is to make an intense, flavorful braised Spinach Bean curd with wild mushroom
Desserts
Treat yourself to delicious desserts
Double-boiled Superior Bird Nest
Delicate in presentation, Double-boiled Superior Bird Nest boasts of the rich taste and aroma of the bird's nest paired with nutrient-rich egg yolk, creating a delicious medley of flavours

Chilled Gui Ling Jelly with Dates, Longan and Snow Fungus
Delicious traditional herbal Jelly with Dates, Longan and Snow Fungus

Heavenly mango pudding of Szechuan food style. This rich and silky dessert is bursting with luscious mango flavor. The simplicity of this pudding recipe makes it great for company
Snow skin mooncake or crystal mooncake is a non-baked mooncake with a soft and chewy texture. It is eaten chilled best eaten with a cup of Chinese Tea
RESERVATIONS
Book your reservation now online and enjoy nuvo.