A DEDICATED FAMILY OF CHEFS
A Blissful Palace
Chinese cuisine is one of the most legend cuisines in the worldwide.  Moreover, in Indonesia, Chinese culture has acculturated as a part of our country, especially in culinary side. There had been the increasing number of Chinese food lovers in Indonesia, especially Jakarta as a melting pot city in Indonesia.
Many variant of Chinese cuisine are provided in Jakarta. Gran Melia Jakarta, a 5 star luxury hotel located in the golden triangle of Kuningan area presents Tien Chao. Literally, "Tien" in the chinese literature means sky and "Chao" means food. The whole Tien Chao means a 'blissful palace'.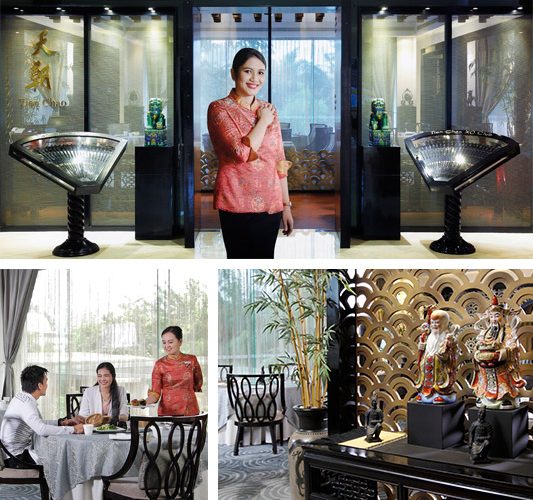 LOCALLY SOURCED FOOD
We are constantly buying and helping local businesses with sustainable sourced products.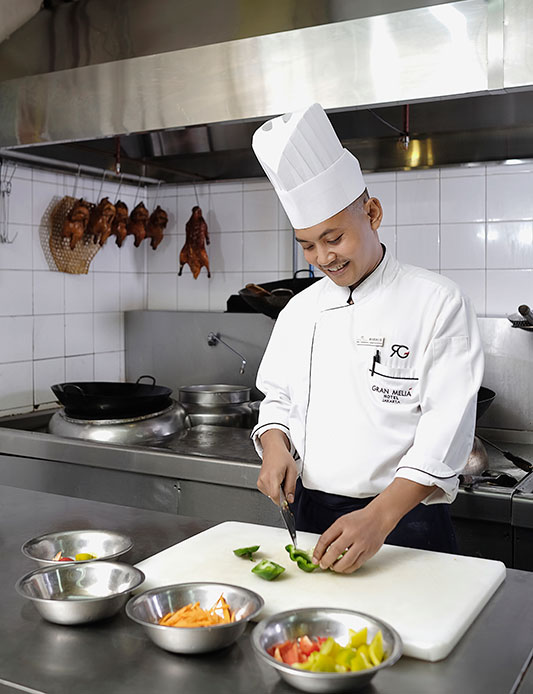 Our Love for Food
There are two main original chinese cuisine in Chinese culture: the ones originated from Canton and Szechuan area and Tien Chao provides those. The characteristic of Cantonese cuisine are characterized by their tender and slightly sweet taste. Classic Cantonese sauces are light and mellow. The most widely used sauces in Guangdong Cuisine include: hoisin sauce, oyster sauce, plum sauce and sweet and sour sauce.
The way of cooking Cantonese cuisine itself was slightly different with Szechuan cuisine. Cantonese dishes tend to braised, stewed. These cooking methods aim to preserve the flavor of the dishes. Unlike the Szechuan dishes, Szechuan Cuisine is known for its bold, yet distinct flavors. The bold flavors stem not only from a generous use of strong pepper and chilies, but also from the liberal use of bell peppers, fermented soy beans (from Tong chuan), garlic, green beans, Szechuan Cuisine typically makes use of fewer cooking methods than do the other cuisine. Such as quick-frying, stir-frying, dry-braising and dry-stewing, the latter two of which are techniques special to Szechuan Cuisine. In stir-frying, for example, a very hot wok is used and the meat strips are cut to a specific thickness so as to facilitate a short quick-fry that results in meat that is delicious and tender, and retains its juicy.
Tien Chao provides broad selection of Cantonese and Szechuan cuisines that is available to be enjoyed. Peking duck, pitan chicken egg porridge are some of the awesome main dishes. The main dishes that very known well is Peking duck which is the whole duck that roasted in high temperature with hoisin sauce that make it become a little bit red-brown would indulge your tounge.